Top 10 Most Famous Gamblers in the World
It's no secret that gambling can change your life in a blink of an eye.
One moment you're shooting dice or spinning reels, the next you're either insanely rich or happened to have burned through funds you shouldn't have. The fact it can go one way or another is what makes it so attractive.
For a few souls on this planet, seeking those highs and lows has led them to winning and losing millions. For either reason, these players are the best source of motivation and ultimately, inspiration for others throughout the world. They deserve to have their names known and mentioned as a part of what players learn on their journey of becoming gambling professionals. Below, we'll discuss the top 10 best and most famous casino gamblers and sports gamblers in the world and how they changed the history of gambling. Take a look!
Archie Karas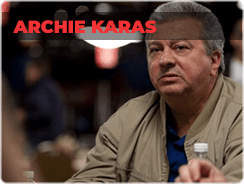 Archie Nicholas Karabourniotis, aka Archie Karas, is a living legend that changed the world of poker. Born in 1950, he is best known as the most famous gambler in the world, and has the best and longest winning streak that made him richer for $40 million. He ran away from home at 15 and working at restaurants to make ends meet. His adventure is known as The Run. This was an interesting point in his life, where he lost all his money but $50 playing high-stakes poker in Los Angeles. Instead of giving up, he knew that bigger things await him, and he famously went to Las Vegas with $50 in his pocket. Soon, he got a loan of $10.000 and turned it into $40 million by 1995. Unfortunately, he lost all his money later during the same year. How did he do it? 'I don't care about money, so I have no fear. I don't care if I lose it.' - he claimed on one occasion. It seems that losing money didn't set him back either - he won and lost lots of money in the next two decades as well - before he was forbidden from entering casinos because he was caught marking cards in a San Diego casino blackjack table. Talk about going from rags to riches, right?
Nick Dandolos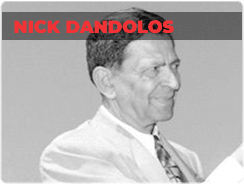 Coming from a rich Greek family, Nick Dandolos or Nick the Greek was a legend in the world of poker. He is the most famous gambler in the world, having won and lost over $15 billion in today's money. He started off in this world as a sports betting enthusiast and wagered on sports betting, but quickly honed his skills and became one of the best poker players in the world. In the first decades of 1900, he traveled to practically all major gambling centers in America. He played in cities in Illinois, New Orleans, New York, and of course, Nevada. He and Johnny Moss played for five months in front of a live audience and they played all the different variations of poker. These two best and quite famous players of their time were further, the inspiration for the World Series of Poker - one of the best tournaments in the world nowadays. Another interesting anecdote is about this most famous gambler is that he, was in fact, the person who gave Albert Einstein a tour of Las Vegas when he came to visit. Nick the Greek passed away on December 25th, 1966, with no family of children. However, he was loved by many, especially since he donated a large majority of his money to charities.
John Montago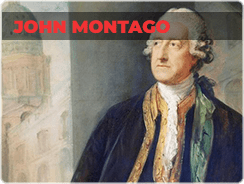 John Montago was born in 1718, and he was a statesman in Great Britain that was very keen on gambling. However, his world fame doesn't come from being the best or most famous player of his time in the world - in fact, his world fame comes from the fact that he invented the meal that everyone in the world loves - the sandwich. How is this related to gambling, you ask? Well, simple - he thought of the sandwich while gambling with his friends. He loved playing card games so much, he didn't want to take a break to eat - thus, inventing the food that can be eaten with one hand. However, back in his time, he was known for throwing gambling parties that would last for a day!
Wild Bill Hickok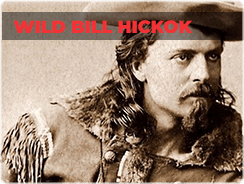 One of the best and most intriguing names in the gambling community is Wild Bill Hickok's. He is one of the best and most famous players in the world, especially for his time back in the world of 19 century. One of the best and most notable things about him is that he died holding what we know now as the dead man's hand - two pairs: black aces and black eights. The fifth, hole card, remains up for debate until this day.
John Doc Holiday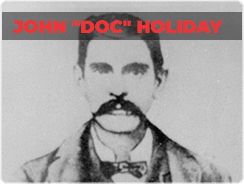 John 'Doc' Holiday was an only child of a family in Griffin, Georgia, born in 1851. He started honing his skills at a very early age - thanks to a slave his family owned - Sophie Walton. She taught him how to play poker, and other card games. He didn't pursue his love for poker until he was diagnosed with tuberculosis and his dental business started losing customers. So, he drank and gambled his pain away. He was very skilled at it, but his drinking problem when gambling was what made him very popular - he would often bring out a knife to threaten his opponents. Besides gambling, he was also known for taking participation in the O.K. Corral Gunfight, one of the most famous gunfights in the world.
Edward Thorp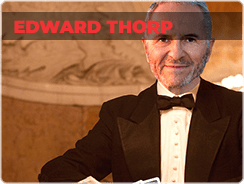 Edward Thorp was born in 1932, and he revolutionized the gambling industry with his incredible mathematics knowledge. He is not the most famous gambler in the world, nor the best, but he did offer the best book that gives insights on how to actually get an advantage of blackjack and win. He is still alive and deserves an honorable mention in our top 10 list of most famous gamblers in the world - because he made life easy for so many players out there. It is known that he too, gambled, and tested out his blackjack counting card technique in numerous best-rated casinos in Las Vegas, but there are no official records of his wins nor losses.
Richard Nixon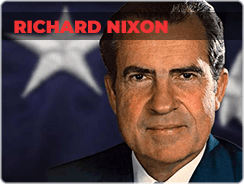 Yes, even the 37th President of America was a gambling enthusiasts. If we are talking about best celebrities - he is the most famous gambler in the world. In fact, some say that he funded his early political career by being the best at playing poker. Word is, he was extremely good at bluffing - which is how in one sitting, he won approximately $8.000, which in today's money, would be around $110.000. Impressive, right?
Billy Walters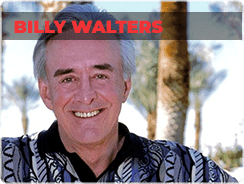 William Walters, or Billy Walters is one of the most famous gamblers in the world - and one of the best sports bettors too. He ranked in top 10 best lists for sports betting in the world- especially after a career of some very successful sports betting predictions. He started gambling when he was only 9-years old, but it didn't come to fruition until he was in his mid-late thirties. He requested a freeze-out for $2 million at the roulette tables at the Golden Nugget and after a 36-hour play, he won an exciting $3.8 million sum. Besides playing blackjack and being one of the most famous casino gamblers, he also has a great reputation for sports betting - having won $3.5 million on Super Bowl XLIV after he bet on the New Orleans Saints. Today, he still spends lots of money on charitable causes.
Bill Benter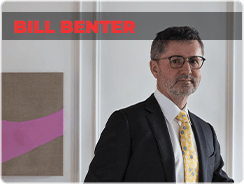 Bill Benter is a living legend, and probably the best and greatest living gambler we have in the world. He used the inspiration of Thrope's book and developed his own computer software to help him beat the odds in the world of horse racing. In fact, he made more than a billion from it. He donated a large majority of his money to charitable causes, and he even played the HKJC to donate money in his name after predicting the winner and winning $118 million. He is one of the most famous blackjack gamblers as well, though, he is prohibited from entering any casino.
Stanford Wong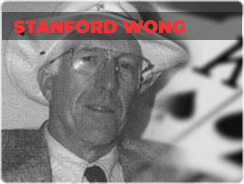 John Ferguson, or known by his pen-name Stanford Wong is a living legend that changed the game for so many casino players. Besides being a tremendously helpful writer offering lots of insights for players, he, himself was one of the most famous gamblers in the world - and he used the best strategies to achieve that. He developed his own, unique counting card techniques and this accrued thousands of dollars in casinos all over the world. Unfortunately, he is banned from entering in casinos. However, he remains in all online gambling facilities through wonging and all his other helpful poker and blackjack techniques.
FAQs
Want to learn more? Take a peek at these fun history facts regarding the best gamblers in the world!
Many names in the history of casino and sports gambling have made a huge impact. Some have even changed casino regulation and security - and with just enough luck and insightfulness, you might be the one to do so. Make sure to get all the knowledge from all these names, and who knows, your name might be up on tour next top 10 list of the best and most famous gamblers in the world.
Related Articles