Top 10 Gambling Casinos in Vegas
Top 10 Casinos is all about bringing you the best of the best when it comes to gambling online and offline. On this page, we're bringing you the Top 10 best Las Vegas casinos to gamble at in 2021 whether you're a blackjack, roulette, or slots fan. With more than 100 different casinos to choose from uncovering the top 10 best Las Vegas casinos was no easy feat, and our expert review team has looked at everything the best resorts have to offer. Not all Las Vegas casinos are the best nor are they created equal and in order to help you get the most out of the time you spend gambling when you visit Sin City, this page should help.
Excalibur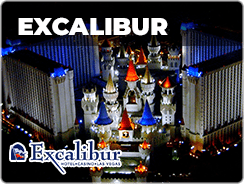 The Excalibur is number 1 on our best casinos in Las Vegas list, and offers some of the best payout percentages for gamblers on the Strip. If you're not a high roller, slots are recommended. The gaming floor is 100,000 sq ft. There are penny slots and the highest per spin bet you'll find is $100. As this top 10 best Las Vegas casino is also owned by MGM gamblers get to take part in the massive slot club. Blackjack fans can gamble on 3 types of blackjack including $25 double-deck games with doubling down before and after splitting. You can gamble on Blackjack Switch for a minimum bet of $10 and there is six deck blackjack with a $15 minimum bet. The lowest house edge at Excalibur is 0.58%. There is a race and sports book and a 14 table poker room. There are hundreds of slots spread throughout the gaming floor and you can gamble from one penny. There is a high limit area too where you can gamble $100 per spin. The Excalibur offers a spa and some of the greatest entertainment to be found in Las Vegas including Cirque du Soleil. The M Life Rewards program offers loyalty points along with 20% off rates, M life Moments, bonuses and promotions on slots, and the BetMGM sportsbook. The hotel is situated on the Strip and the architecture is that of a middle ages castle. The resort is themed around King Arthur and is unique. There are 4,000 guest room and suites as well as a 13,000 sq ft spa. There are plenty of bars and restaurants as well as shops and boutiques. There are three permanent shows.
Bellagio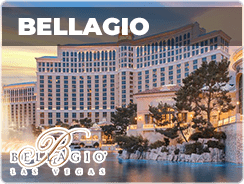 The Bellagio, number 2 in our top 10 best casinos in Las Vegas, opened in 1998 and is owned by MGM Resorts International. It's unique architecture combines French and Italian luxury. The resort features 12 restaurants including Picasso a Michelin star establishment. It has a gaming floor that 116,000 sq ft with 2,300 slot machines for gamblers to enjoy. This is a high limit slots room where you can gamble from $5 to $2,000 per spin. There are slot machines for all budgets and many feature progressive jackpots. There are slots tournaments. There are 176 table games for blackjack and roulette gamblers and 40 poker tables where you can gamble with some of the highest betting limits in Las Vegas. Don't be surprised to find $20,000 buy-ins and prize pots of over $1 million. Bobby's Room is the most popular of the poker rooms. There are daily poker tournaments for Omaha and no limit Hold'em. The luxurious Bellagio is also known for its Club Prive Lounge, another high roller area where blackjack fans will find tables where the minimum gamble $300. The best blackjack games to gamble on are the double deck tables and you can double down before and after splitting. There is a 0.2% house edge on blackjack. Roulette fans can gamble on European roulette and the minimum bet is $50. When you're not gambling at the tables or slot machines the Fountains of Bellagio with its spectacular water and light and music shows is a must. Visitors can visit the conservatory and explore the botanical gardens and fine art gallery. You can't visit the Bellagio without taking in a show and it is home to the word renowned Cirque de Soleil. The M Life Rewards loyalty program is a great way to earn points during your stay which can be redeemed for free slots play, dining, and more.
Caesars Palace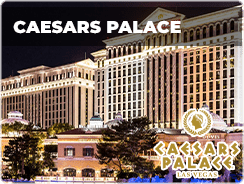 Caesars Palace is one of the oldest casino on the Strip with a gambling floor of 124,181 sq ft. The resort features Roman Empire style architecture with a mix of Renaissance art with theme attractions for visitors such as the Roman Forum replica and Colosseum. Caesars Palace has been used as a location for numerous movies and is also the spot where Evel Knieval made his motorcycle leap in 1967. It has played host to numerous star performers including Celine Dion and Elton John and after a day at the casino you can head to the Omnia nightclub which spans 75,000 sq ft with a mezzanine and a rooftop garden offering panoramic views of the Strip. It is known for its sporting betting. For many gamblers it is the best high roller Las Vegas casino complete with 1324 slot machines and 185 table games. There are 16 poker tables where you can gamble from $100 to $150. There are plenty of jackpot slots too. It offers lower stakes than some of the other casinos on the Strip making it excellent for those who want to gamble on a budget. You can gamble on blackjack, baccarat, poker, race and sports book, craps, and roulette. There are special sports betting promotions for mobile gamblers and there's Caesars Rewards Slots for free slots play. There are poker promos and slots fans can try for $1 million jackpots. There are 2 baccarat tables, American roulette, craps, and video poker. With more than 1,000 slot machines there's something for every gambler. The hotel has 3,976 rooms and a 50,000 sq ft spa and fitness centre. There is plenty to keep all visitors entertained with bars, lounges, and nightclubs. There are 160 stores and attractions and if shows are your thing you'll be spoilt for choice.
The Venetian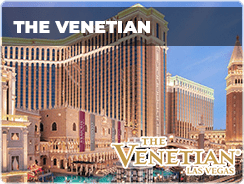 The Venetian was founded in 1999 and visitors can enjoy the huge gaming floor and Italian themed architecture. It is famous for its gaming floor and high roller tables where gamblers can enjoy huge poker games, tournaments, slots, blackjack, roulette, baccarat, craps, Pai Gow poker, and more. The resort features a world renowned spa which is 134,000 sq ft, as well as replicas of St Mark's Campanile and the Rialto brigade. The Italian atmosphere can also be found in other attractions such as the Grand Canal Shoppes. There are two floors of slot machines with more than 1,000 of the latest games as well as a great loyalty program. They cater to high rollers and if this is you the High-Limit Slots Salon is the place to visit and you can bet up to $5,00 per spin. You'll find all your favorite titles from the best slots casinos online such as Game of Thrones and Lord of the Rings. Blackjack fans will find tables with bets starting at $10. There are 36 shoe games with a maximum bet of $2,000 as well as free bet blackjack and blackjack Switch. There are 7 craps tables and 7 roulette tables with bets starting from $10 up to $500. The Sands Poker Room offers the biggest selection of poker games on the Strip with Texas Hold'em, Omaha High/Low, and more. Cantor Gaming operates the sportsbook at the Venetian and offers stadium seating. There are bonuses and promotions along with casino events where you can earn points while playing games and these can be exchanged for high end fashion items, luxury gifts, and more. There are poker tournaments and baccarat tournaments too. The hotel has 4,000 rooms and guests can enjoy the pool desk with whirlpool tubs and swimming pools. There is also the Canyon Ranch Spa Club. There are numerous restaurants and shopping facilities.
Aria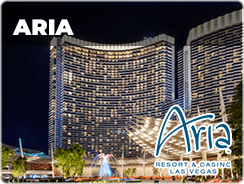 The Aria opened in December 2009 and has a high limit lounge that is open 24 hours a day as well as a huge selection of slot machines with huge five figure jackpots. The gaming floor is one of the biggest at 150,000 sq ft and it is filled with 2000 slot machines that you'll know and love from our top 10 best slots casinos online. There are over 150 table games consisting of twelve baccarat tables, twelve roulette tables, and twelve craps tables. There is a sportsbook and a poker room with 24 tables offering some of the highest limits on the Strip. Aria caters for high rollers and the Ivey Room offers the highest stakes. The best high roller slot machine room can be found here called Spin where you'll find slots that cost $5,000 per spin. Spin was designed by Peter Marino and has its own staff to cater for all your needs while you gamble. It's not just high rollers and all budgets are catered for and there are plenty of slots tournaments too. Roulette fans can enjoy plenty of action including French roulette with minimum bets of $50. Low budget players will find 11 American roulette tables with starting bets of just $5. For blackjack fans, Aria offers a range of high roller and mid budget tables from $100 blackjack games as well as six-deck blackjack with surrender and re-split aces. Most tables pay 6-5 odds and you can gamble on Blackjack Switch. As part of MGM visitors can sign up for M Life Rewards and receive special offers and points on their gameplay during their stay. The resort itself is luxurious and modern with 7 excellent restaurants and a Forbes 5 Star hotel comprising of 4,000 room. There is a spa and fitness centre, a huge banquet hall, convention centre, as well as ten different bars and clubs. Jewel is the nightclub and one of the most popular in Las Vegas. The pool deck has one of the largest pools as well as a pool bar and there are plenty of shops and boutiques.
Golden Nugget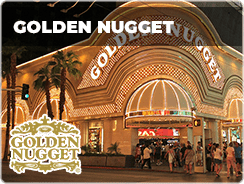 The Golden Nugget is one of the oldest casinos in Las Vegas. It was built in 1946 and is located downtown. The casino floor is over 30,000 sq ft and here you'll find a large section of table games and more than 1,000 slot machines with multiple progress jackpots. In terms of table games you'll find baccarat, craps, poker, blackjack, and roulette with free gaming lessons available daily. The casino features the latest slots including Wheel of Fortune 3D and Buffalo Grand. Race and sportsbook fans can watch their favorite events on the big screen with luxurious booths and you can also download the Golden Nuggets Sports app for betting on your mobile. There are a number of casino promotions including blackjack and slots tournaments and there is the 24K Select Club where you earn points on slots and video poker which can be redeemed for food and retail purposes and free play on slots. The hotel has more than 2,400 rooms with plenty of places to eat and drink too. Vic and Anthony's steakhouse in one of the top 10 in the entire country. There are a number of entertainments shows and a number of bars. Guests can relax in comfort and enjoy a day in the spa or a spot of retail therapy in the shops. You can even swim alongside sharks in their extreme pool.
Circus Circus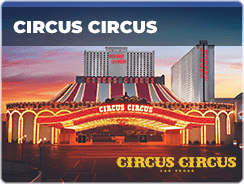 Circus Circus located on the Strip features carnival type games and circus acts on a daily basis. It has the world's largest permanent big top. Lucky the Clown marquee was built in 1976. Guests can expect to be entertained by clowns, jugglers, and acrobats that perform above the main floor in this child friendly casino and resort. The Adventuredome theme part is one of the biggest features. The hotel has over 3,700 rooms and features a salon, a range of bars, the Adventuredome which is a 5 acre amusement park, Splash Zone with its 50 foot waterslide, a range of shops and boutiques, and a great selection of restaurants including the award-winning The Steak House. Free circus acts are available every day from 11am to midnight. The casino gaming floor is 126,000 sq ft with a range of table games including craps, video poker, Pai Gow Poker, and plenty of blackjack tables. Blackjack fans will find three basic games at Circus Circus which are single deck, double deck, and six-deck. The minimum wager is $5 at most tables and all games hit soft 17. The payout is 3-2 on blackjack and you can double down before and after splitting. The casino is also known for the cheapest baccarat games on the Strip and the minimum bet is $10. Slots fans will find all the latest video slots starting at 0.01 up to $25 per spin. If you have a Circus Player Club card you can participate in $50,000 slot tournaments. There is a race and sportsbook and the room has seating for thirty people in the sports book and fifty in the race book. There is also a sports bar where you can watch all the action.
MGM Grand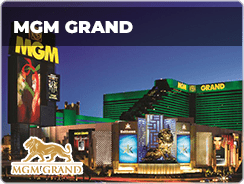 The MGM Grand has a gaming floor area of 171,500 with 2,500 slot machines and 140 table games including blackjack, roulette, poker, baccarat, and craps. There is a high limits slots area where payouts are capped at $500,000. There are poker rooms and a racing and sports betting area known as the TOP sports bar features 60inch TVs to view all the action. There are 16 roulette tables just inside the entrance way with French roulette featuring the La Partage rule for a house edge of just 1.35%. The minimum bet is $25. There are also 11 American roulette tables with a low wagers between $3 and $10. Blackjack fans will find over 50 tables featuring a 6 deck shoe and dealers hit on soft 17. There are a number of single deck blackjack tables too that you'll find at the best blackjack casinos online. You can double down after split and the surrender option is also available. The maximum bet is $10,000 dollars. Craps is a popular choice too. MGM Grand has the most active poker rooms in Las Vegas and there are four poker tournaments running every day. Members of the M Life Rewards club can earn points and special bonuses and promotions for all their gambling. The MGM Grand is the largest hotel resort and when it first opened it has a Wizard of Oz theme. The architectural design of the MGM Grand is a mix of Art Deco, Hollywood, and Tuscany. The hotel has 6,852 rooms and The Mansion at MGM Grand with its 29 VIP player villas is where gamblers can take advantage of high limit table games and the Tuscan architectural design. The Skylofts is a 'baller' VIP hotel. The MGM Grand complex has five signature attractions including a lion habitat and 10 renowned restaurants. There is a spa and fitness centre as well as the MGM Grand Garden Arena which has hosted the ACM Awards. The Hakkasan nightclub is home to world famous DJs like Calvin Harris. Topgold is the a 4 level sports entertainment venue with interactive golf games. There is plenty of shopping to be had and when it comes to shows the Brad Garretts Comedy Club and David Copperfield Theatre are among the highlights.
The Mirage
The Mirage was built by Steve Wynn more than 30 years ago and is a spectacular location. Gamblers can watch a volcan erupt, enjoy Cirque du Soleil shows, and hang out at Paradise Café. The Mirage has a Polynesian theme and the distinctive gold windows contain real gold dust. The hotel offers 3,044 rooms as well as a spa and fitness centre. It has an events centre and grand ballroom that's 40,000 sq ft. There are plenty of nightclubs, bars, and lounges including the Rhumbar with its speciality cocktails. There are outdoor pools and gardens with lagoons and waterfalls. There are a range of shops and boutiques and when it comes to shows you'll find performances by Beatles LOVE, award winning comedy acts, and much more. The casino floor at 100,000 sq ft offers a range of table games, slot machines, and a race and sports book. There are four craps tables with a minimum bet of $5. Blackjack fans will find 12 single deck tables paying 6-5 and players can double down on any 2 cards. There are 19 6-deck blackjack games paying 6-5 and 4 blackjack tables that pay 3-2. There is a high limit blackjack area too with minimum bets of $100 and there's a free bet blackjack table with wagers up to $1,000. Other table games include Crazy4Poker, Ultimate Texas Hold'em, Pai Gow, and American roulette. Slots fans will find the hottest new games as well as all their favorite Vegas slots many of which can be found at the best slots casinos online The Mirage offers the latest HD and 3D slots and betting limits go from one penny right the way up to $1,000 per spin. The sports book and the poker room at the Mirage offer the best action and live tournaments can be enjoyed on No Limit Texas Hold'em. Owned by MGM Resorts International, guests at the Mirage can become part of the M Life Rewards club and earn points that can be redeemed for free slots play, dining, free stays, and more.
El Cortez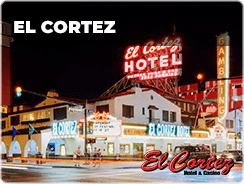 The El Cortez, the final of our top 10 best casinos in Las Vegas, was built in 1941 and is one of the oldest casinos in Las Vegas. It offers a huge selection of slots, roulette and blackjack tables, and sports betting for the best value in town. They offer a free player's club membership program so you can reap the benefits while you gamble. Benefits include free slots play, up to 75% discounts, cash back, free tournament entries, free rooms, and meals. The gaming floor is quite small with low table limits on roulette and blackjack. There are slots from one penny to five dollars. Gamblers can also enjoy keno and baccarat. Single deck blackjack pays 3-2 and double deck tables are available. There are two $1 minimum bet American roulette tables but no European roulette. Gamblers will also find baccarat and craps. The casino floor is split in three sections. One area features old coin video poker machines, a keno room, and a video poker bar. The center area is roulette and blackjack and the sports book, and the last area is slots and video poker machines. There are plenty of great offers with the latest on their website. You can also view their Hall of Fame, Jackpot, and Tournament winners on the website.The El Cortez offers low room rates and a 24 hour casino restaurant in its quiet location just a ten minute drive from the strip. There are 364 hotel rooms, 3 bars, and 3 dining options. It also has a 24 hour fitness centre and free on-site parking. It is a value location in downtown Las Vegas. The Spanish Colonial architecture is a throwback to the past and this style is continued inside. The main restaurant has a retro brasserie vibe. Ike's Lounge is located near the keno area and is the sports bar.
What Makes One Casino Resort better to Gamble at than Another?
Finding the best Las Vegas casino to gamble at doesn't have to be a chore. The glitz and glam are not what's going to matter if you plan to gamble and it will all come down to the games you can gamble on like roulette, blackjack, and slots, the house odds, and the payouts. Las Vegas is home to some of the USA's top gambling establishments and each of these will offer variety, atmosphere, and huge jackpots. There are so many places to stay from luxury to economic options. There are casinos everywhere in Las Vegas and the local Las Vegas casinos can be best for those looking to gamble with better rewards and looser odds. Many of these cater to the gamblers that live in Sin City.
Finding the top 10 best Las Vegas casinos meant looking at everything on offer including gambling on legal sports betting. Most of the top 10 best Las Vegas casinos offer you the chance to gamble on a variety of sporting events as well as gambling on roulette and other table games.
How do the top 10 best Las Vegas casinos stand out from the crowd and attract those that want to gamble. Each casino has its own distinctive style and game selection. There are the best Las Vegas casinos for blackjack, slots, and roulette. Roulette fans can gamble on American roulette, European Roulette, and French roulette. Some casinos offer low or high limit tables for specific games like the El Cortez off the strip with its low limit blackjack tables. If you want luxury casinos with the newest games, the Strip is where to gamble. The Venetian is one of the largest casinos in the world with a poker room that attracts visitors from around the globe.
The best Las Vegas casinos to gamble at in 2021 will offer an array of games like poker, slots, craps, blackjack, and roulette, but if you are looking for something specific like bingo or keno you'll have to check beforehand. Our top 10 online casinos and top 10 no deposit bonuses let you brush up on blackjack, American roulette, and European roulette skills.
As with online gambling sites, the best Las Vegas casinos offer player rewards so you get more for your money when you gamble. This often includes promotional discounts and deals for blackjack, slots, and roulette. The top 10 blackjack guide and top 10 roulette guide are great resources with winning tips and strategies for gamblers and the top 10 slots for 2021 will help you choose what to gamble on in Vegas too.
Top 10 Important Tips when you Gamble at Casinos in Sin City
Set Your Limits - Before you gamble at any of the top 10 best Las Vegas casinos you need to figure out how much you are willing to lose. When you gamble with real money, losing is part of it and a good thing to keep in mind during the time you gamble in a Las Vegas casino is that you are paying for something special. Winning is a bonus. Set your budget and stick to it. Don't chase your losses and walk away from the roulette table when you reach your limit.
Never Buy Blackjack Insurance or Split 10's - Blackjack is a game that can offer the best odds and when you gamble at one of the top 10 best Las Vegas casinos you may find that the casinos modify it slightly so they have the advantage. To keep the odds in your favor, you should never take insurance as this can add as much as 7% to the house edge. Another tip from our top 10 experts is not to split your 10s. It is much better to have 20 and stick with it no matter what the dealer has.
Don't Use Your Credit Card - Tempting as it might be to reach for your credit card when you run out of cash, don't do it. Using your credit card to continue playing at the blackjack or roulette table is a very bad idea. Don't chase your losses by putting yourself more into debt. What's more, the casino charges a percentage for giving you an advance and this is on top of the interest rate the credit card company will add.
Don't Use The Casinos Free Lessons - All our top 10 best Las Vegas casinos offer free lessons on how to play blackjack, roulette, slots, etc, but our experts don't recommend you go this route. After all, the casino is not going to provide you with winning tips and strategies are they. We recommend reading our top 10 game guides for blackjack, roulette, and slots, and using the fun play option that the top 10 online casinos offer to practice for as long as you need. You can learn the betting strategies for roulette and the basic strategy for blackjack, as well as the top 10 winning tips for slot machines. Then we suggest you make use of the many top 10 2021 no deposit bonus codes so you gamble for real money.
Players Clubs Aren't Always a Good Idea - As with most of the casinos in Sin City, our top 10 best Las Vegas casinos all offer players clubs that you can join to earn cashback or player points and the more you gamble the more you get. The points can be redeemed for free rooms, meal vouchers, and merchandise and while it sounds exciting, our top 10 experts recommend that you keep your wits about you. You're only there for a short time to gamble and have fun and these clubs are designed to keep you at the blackjack and roulette tables for longer or spinning the slot reels just so you can get something back. Stick with your budget and don't gamble more than you can afford just to earn points.
VIP Treatment is Not Cheap - As exciting as it sounds hitting the VIP treatment is not cheap and unless you can really afford it, high limit blackjack and roulette tables or VIP slot areas are the fastest way to gamble away your money. A lot of the VIP nightclubs have cover charges and a minimum drinks policy. Splurging on fine dining costs too and our top 10 experts recommend you watch out for discounts and if there is no price attached to something don't assume it's in your budget. The top 10 best Las Vegas casinos recommended on this site have VIP options as well as options to suit every budget.
Watch the Time - It's so easy to get caught up in the excitement of the roulette and blackjack tables or in the slots area with all the noise and commotion and winning sounds going off. But our top 10 experts recommend you keep an eye on the time you spend on your gambling sessions too. It's easy to set a limit to the amount you can afford to lose but what if Lady Luck is with you and you're winning? When do you decide to cashout? Las Vegas casinos are designed to keep you immersed and who doesn't want to play on when they're winning. If you set a time limit you can always cash out when you're on a winning streak and then come back later.
Don't Forget Chips are Money - Chips look great and it's easy to forget they are real money you are gambling with. Some people even collect them. This is intentional on the part of the casino and if you are going to gamble on roulette or any other game remember each chip is real money.
Don't Play Against the Locals - Whether you choose to play blackjack or roulette, if the dealer knows the name of those at the table with you it means they are locals and more than likely very experienced gamblers. If you're not experienced our top 10 experts recommend you find another roulette table to gamble at. Visitors to Vegas are often fuelled by all the free drinks and the locals know this, and are only too willing to take your money.
Know Where to Cash Out - Our final top 10 tip for gamblers is to make sure you know where to cashout your chips. You'll find plenty of locations within the casino to buy chips for cash but when it comes to cashing in, finding the place to do this can be a bit of a nightmare. We suggest you locate the cashier section before you start to gamble so you won't be tempted to spend your chips on the roulette and blackjack tables because you can't find it.
Las Vegas Casino FAQs
Las Vegas casinos offer the best gambling experience in the world and now that you know what our top 10 best casinos in Las Vegas to gamble on blackjack, roulette, and slots, are we hope it makes a difference to your vacation. It's not just Las Vegas though, there are some fantastic casinos around the world and our top 10 best European casinos and top 10 International casinos are the perfect choices for gambling enthusiasts who like to travel the world and enjoy superior gambling experiences in the likes of Macau, Monte Carlo, London, and more.
Related Articles