Thankfully, a quick search on Google gives us all the answers we need to figure out those baffling blockbuster endings. Whether it's the hidden Easter eggs in Pixar films or the symbolism used in Ari Aster's Midsommar, someone out there has the answer.
To find out which movie endings confuse people the most, Top 10 Casinos analysed Google search data from January to May 2022 to find just how many times people had turned to Google to try to puzzle out these movie plots.
---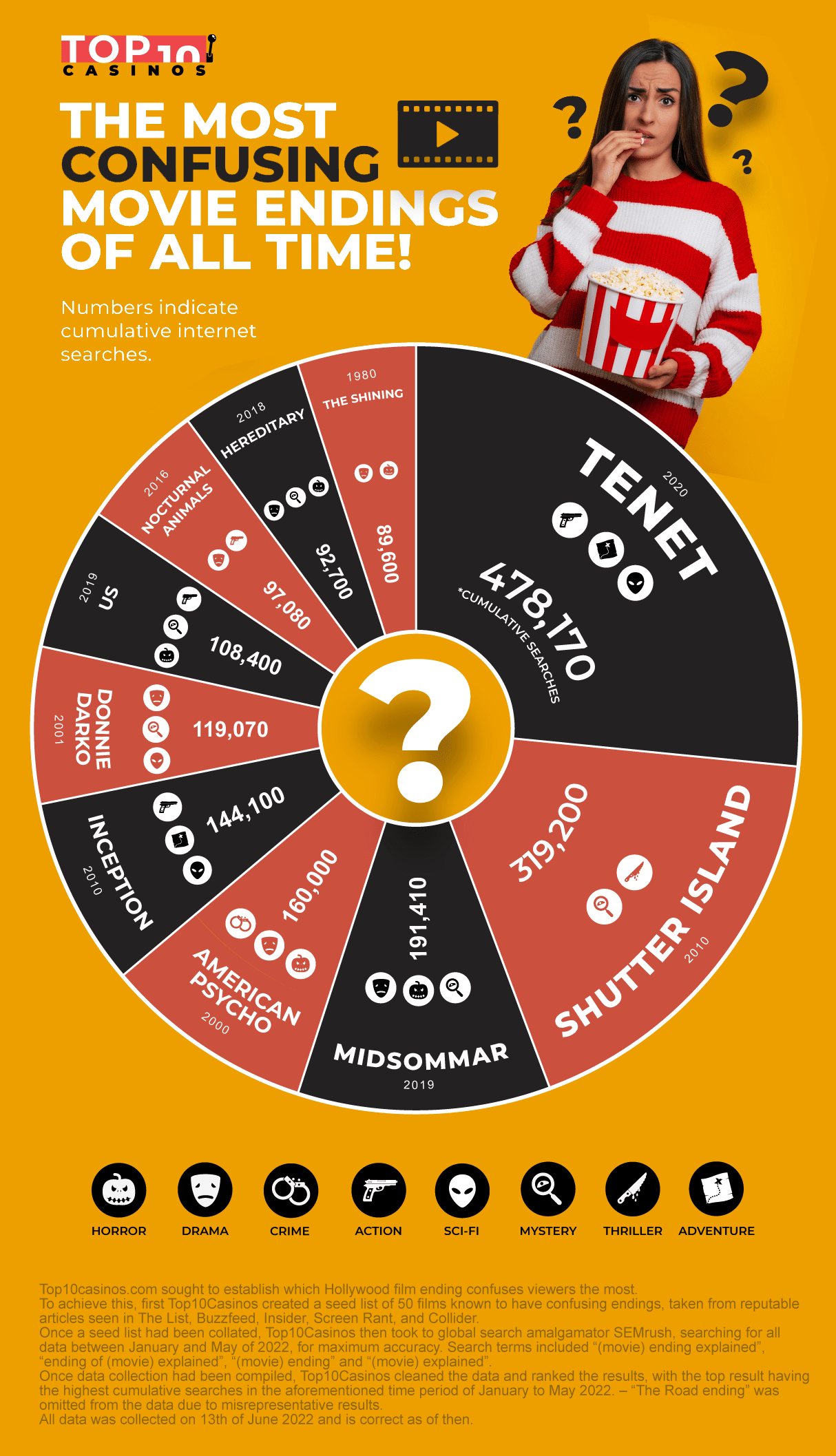 1
Tenet
478,170+ searches

The numbers don't lie, and with a staggering 478,170 searches, the 2020 film Tenet is top of the list. This Sci-Fi-Spy thriller blew minds with concepts like "reverse entropy" and time travel and set thousands racing to Google. But what else could we expect from Christopher Nolan?
2
Shutter Island
319,200+ searches

The 2010 psychological thriller Shutter Island is in second place. It garnered an impressive 319,200 searches from January to May - which is impressive considering the film is over a decade old. The ambiguous ending- did Andrew know? Was he pretending to regress back into Teddy? - has kept audiences pondering ever since.
3
Midsommar
191,410+ searches

Director Ari Aster has been making waves in the horror genre in the past few years, and it's easy to see why. His 2019 film Midsommar had 191,410 searches, with the triumphant ending for Dani baffling audiences. Why did she smile? Aster keeps us guessing, which has become his calling card.
4
American Psycho
160,000+ searches

American Psycho lands in fourth place and is notably the first and only film in our top 10 directed by a woman, Mary Harron. This dark and twisted thriller has confounded audiences since its lauded release in 2000. Garnering 160,000 searches, the actions of Patrick Batemen really do have us still wondering, two decades later, was it all in his head?
5
Inception
144,100+ searches

Rounding off the top five with a bang (and a headache), Christopher Nolan appears again with Inception. We're sure it's a dream within a dream within a dream come true for Mr Nolan to appear twice in the top five, and it's well earned with 144,100 searches for an explanation for the movie's ending.
6
Donnie Darko
119,070+ searches

Just missing out on a spot in the top five, we have Richard Kelly's 2001 hit, Donnie Darko. While it has become something of a cult classic, it seems people still don't really understand the ending, and the movie had 119,070 searches to prove that. The dramatic ending, time travel, and creepy rabbit still have audiences wondering just what the heck happened in that film?
7
Us
108,400+ searches

Sticking with rabbit elements, though marginally less creepily, is Jordan Peele's Us. The 2019 film saw 108,400 searches for the meaning of its ending. Centred around a family and their sinister doppelgangers, the film raises questions of identity, government authority, is rabbit tasty, and who was Red anyway?
8
Nocturnal Animals
97,080+ searches

Lurching into eighth position is Tom Ford's Nocturnal Animals. This 2016 neo-noir thriller tells the story of a book within a film, but it is the final moments that left audiences scratching their chins. 97,080 searches were made to find out the meaning of this award-winning film's ending.
9
Hereditary
92,700+ searches

Ari Aster makes his second appearance in the top 10, this time with his film Hereditary, in ninth place. This family drama cum supernatural horror deals with concepts of complex family bonds, grief and loss, and cultish worship of demons. 92,700 searches were made for the ending of this film and, given its unique Ari Aster style, it's easy to see why.
10
The Shining
89,600+ searches

Bursting into tenth place like an axe through the door is the 1980 masterclass in mind-bending, The Shining. Directed by the late Stanley Kubrick, known for his perfectionism, the cult classic has left heads reeling ever since it exploded onto screens. With 89,600 searches between January and May, it's clear the ending still has people wondering what on earth happened at The Overlook Hotel.
The 5 most confusing movie genres
Top10Casinos gathered data for 50 movies in total, and this showed an interesting trend when it came to confusing movie genres. We've sifted through the results to list each film by the genres it falls under, to find which movie genre is the most confounding.
Over half of the films with the most confusing endings fall into the Drama genre. There are 37 titles in this category, including film icons like The Shining and American Psycho, as well as relative newcomers to the "confusing movies" scene, such as Mother!.
The next genre on our list, with less than half the films as drama, is Mystery. It makes sense that a genre designed around keeping people guessing... keeps people guessing. Mystery has 18 films in its category, including mega-hits like Gone Girl and fan favourite Memento.
Next up in our perplexing genres list is Sci-Fi, with 14 movies. This is to be expected, with complex scientific concepts and futuristic technology often confusing audiences. This genre includes mystifying films like Arrival, which introduces the idea of seeing the future through language, and The Matrix.
In fourth spot, we have the Thriller genre, with 13 films under it. Designed to get hearts pounding, the films under this genre also got brains whirling. It includes movies like Black Swan baffling audiences and Mulholland Drive raising all sorts of questions.
Finally, and just pipped to the post, we have the Action genre with 12 films. Some titles include Edge of Tomorrow and Total Recall, which have raised questions and left audiences guessing for years after their release.
Methodology:
Top10casinos.com sought to establish which Hollywood film ending confuses viewers the most.
To achieve this, first, Top10Casinos created a seed list of 50 films known to have confusing endings, taken from reputable articles seen in The List, Buzzfeed, Insider, Screen Rant, and Collider.
Once a seed list had been collated, Top10Casinos then took to the global search amalgamator SEMrush, searching for all data between January and May of 2022 for maximum accuracy. Search terms included "(movie) ending explained", "ending of (movie) explained", "(movie) ending", and "(movie) explained".
Once data collection had been compiled, Top10Casinos cleaned the data and ranked the results, with the top result having the highest cumulative searches in the aforementioned time period of January to May 2022. - "The Road ending" was omitted from the data due to misrepresentative results.
All data was collected on the 13th of June 2022 and is correct as of then.