Top10Casinos wanted to see at what point in a series TV shows have their peak and are their most highly rated, and when they have their fall from grace and their ratings plummet.
Looking at 14 popular TV shows from the past decade, we've crunched the numbers to find the best and worst episodes in television.
The Single Greatest and Worst Episodes on TV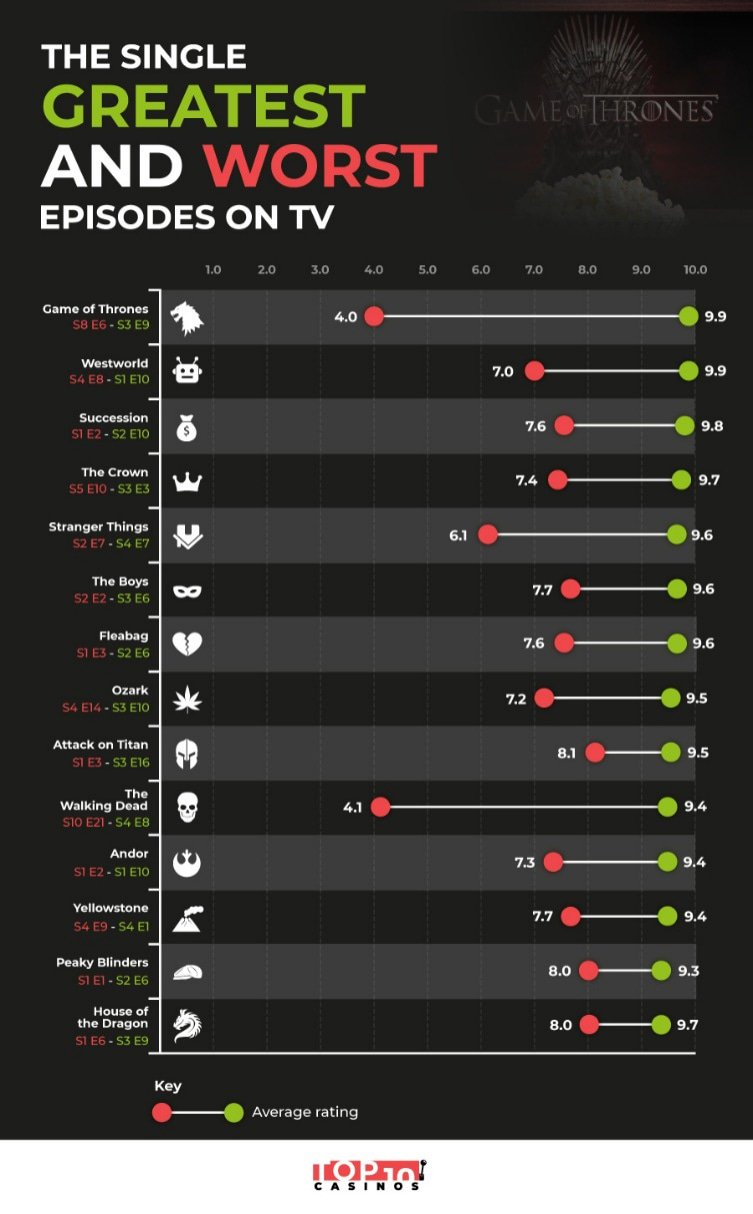 We've all been absorbed into a TV show at some point or another--whether that's a soap opera or a documentary. The TV shows in this list are some of the most popular, which either did have or currently do have a death grip on nations of people.
Game of Thrones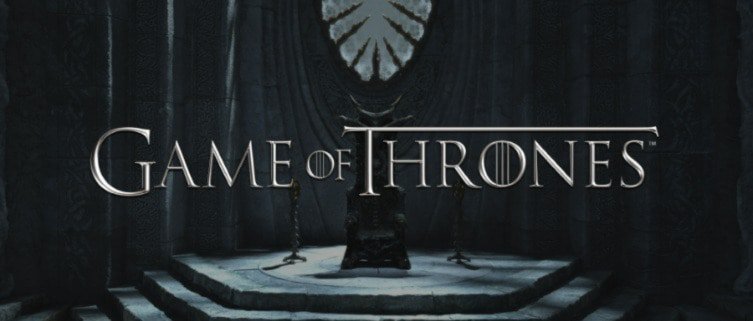 Game of Thrones is at the top of this list because it not only has the (joint) highest-rated episode, but also the lowest-rated. Audiences couldn't look away as Robb, Catelyn, and their bannermen were ruthlessly murdered in season three episode nine, "The Rains of Castamere" (also known as the Red Wedding). The episode overall received an almost flawless rating of 9.9/10.
Who would have thought that the season finale would have such a negative response? Five seasons later, series eight episode six is the lowest rated of any TV show on our list scoring just 4/10. Audiences just couldn't get behind Daenerys' descent into madness, Bran the Broken becoming King, and the endless plot points that went unresolved.
Attack On Titan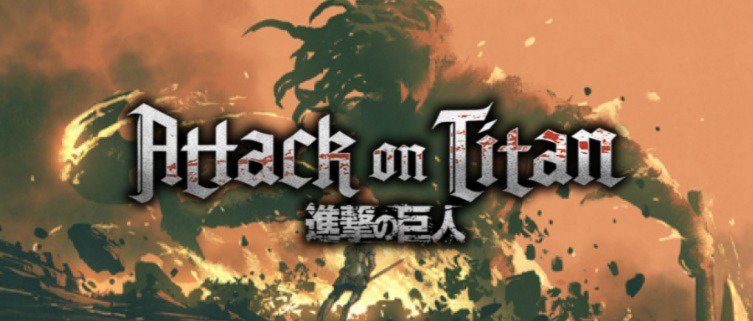 Attack on Titan may be a mystery to some, but this anime joins Game of Thrones in having an episode rated 9.9/10. Season three episode 16, titled "Perfect Game", saw our heroes battling an onslaught from a Beast Titan, a Colossal Titan, and sadly their brave leader is mortally wounded.
Unlike Game of Thrones, Attack on Titan's lowest-rated episode is still pretty popular. Season one episode three sees the trio of Eren, Armin, and Mikasa undergoing training to join an elite military. Perhaps the episode scores so lowly, at 8.1/10, because of the strange focus on Sasha and her potato.
Succession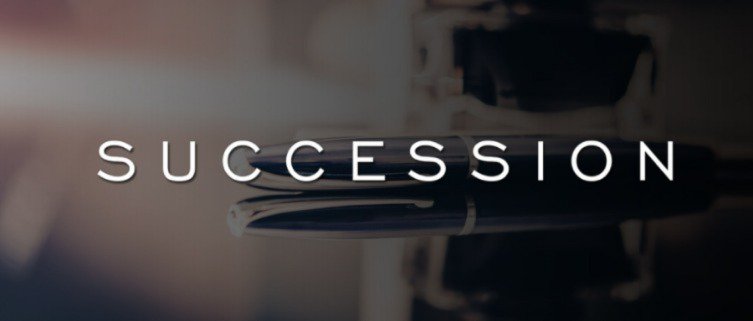 This dark comedy/drama sees the Logan family battling it out to gain control of the family business, which is understandable when the family business is a multimillion-dollar media conglomerate. The highest-rated episode, season two episode ten "This is Not for Tears", scored 9.8/10. The finale of the season wrapped up who in the family would take the blame for various crimes, only for a dramatic last-minute twist.
The lowest-rated episode of the series, season one episode two, still scored a respectable 7.6/10. "Shit Show at the Fuck Factory" focuses on which family member will take over the business while patriarch Logan is in a coma. After much arguing, Kendall takes control and finds out he's $3 billion in debt.
Westworld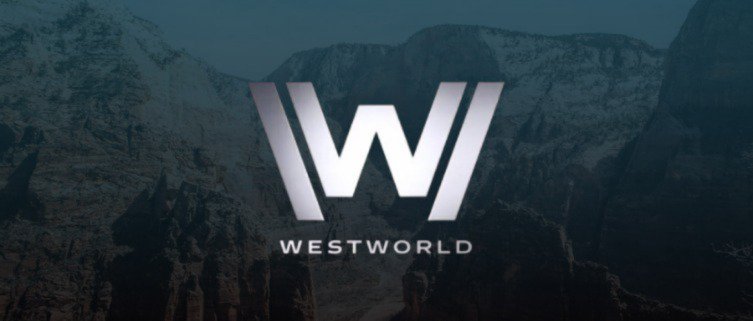 Set in a dystopian future where biomechanical robots in a Wild West theme park gain sentience, Westworld has been making waves since it first aired. Its highest-rated episode, season one episode ten "The Bicameral Mind" achieved a score of 9.7/10. This descent into anarchy set the tone for the rest of the show's run.
While not as dramatic a downfall as Game of Thrones, Westworld has the second largest difference between best and worst episode ratings. Season four episode eight scored just a 7/10. It must be noted that the series was cancelled after this episode, so audiences may feel cheated out of a true finale.
Stranger Things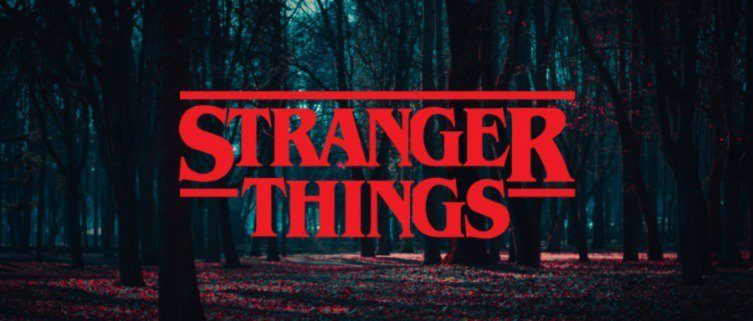 One of the most popular shows on Netflix, this nostalgic powerhouse has held onto audiences like a vice. Season four was no different, and with episode seven finally explaining who the "kind" orderly Eleven befriended is and what he did, the episode achieved a rating of 9.6/10.
Stranger Things' worst rated episode came two seasons earlier, with season two episode seven "The Lost Sister". It scored just 6.1/10 and, honestly, it's easy to see why. While the episode saw great development in Eleven's psychokinetic abilities, it felt completely out of sync with the rest of the series, introducing a whole cast of characters who are never seen or heard from again.
The Boys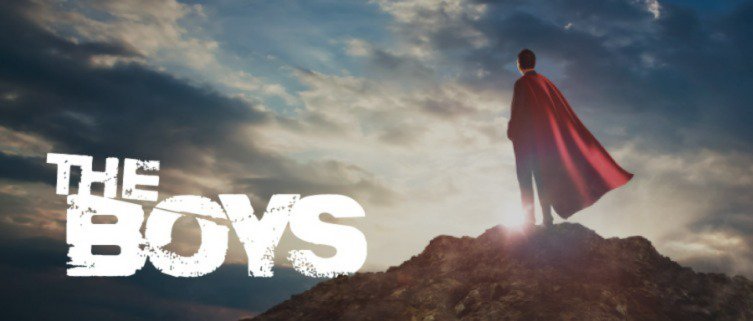 Set in a world where superheroes (Supes) are marketed and monetised, The Boys are a group of vigilante superheroes who aim to fight corruption. The highest-rated episode is season three episode six, "Herogasm", a large part of which takes place at a superhero orgy and sees many characters die. This episode joins Stranger Things in being rated 9.6/10.
The series' worst rated episode comes from the previous season, season two episode two, titled "Proper Preparation and Planning". Despite being relatively action-packed and filled with intrigue, the episode is only rated 7.7/10.
The Walking Dead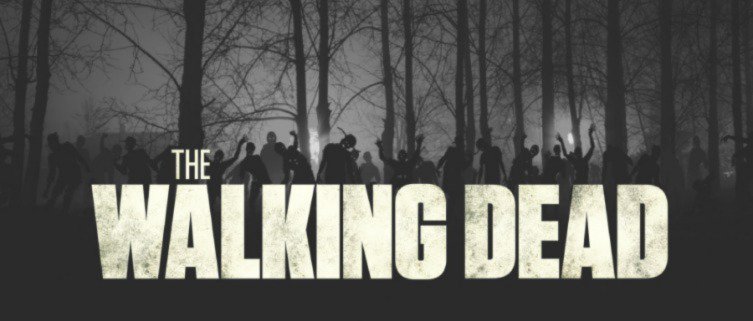 This long-running TV show, set in a world overrun by zombies or the titular walking dead, also has an episode scoring 9.6/10. "Too Far Gone", season four episode eight, focuses on the Governor attacking the prison and the ensuing death and destruction and is the best-rated episode by far.
On the other hand, the worst-rated came some six seasons later in season ten. Episode 21, "Diverged", was widely criticised for not seeming necessary. The episode follows Daryl and Carol as they, essentially, make soup and fix a motorcycle. Riveting stuff. This episode has the second-worst rating on our list, with 4.1/10.
Peaky Blinders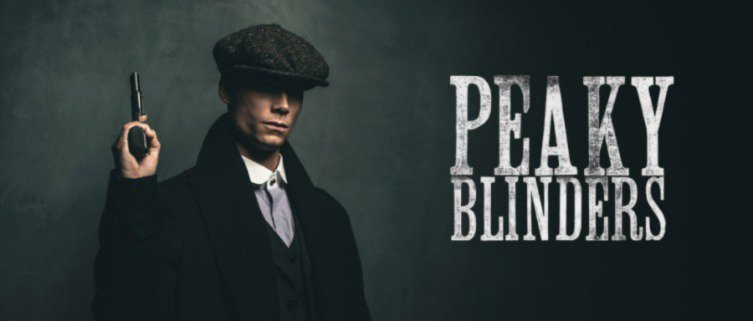 Peaky Blinders has caused a sensation. It has started fashion trends, made Birmingham seem even cooler than it already was, and grabbed the attention of millions. Episode six of season two is the highest rated, scoring 9.5/10, as people couldn't get enough of all the derby drama.
Even the lowest-rated episode, scoring 8/10, is pretty popular. Strangely, though, it's the first-ever episode. Perhaps the peaky blinders were still finding themselves at that point.
Andor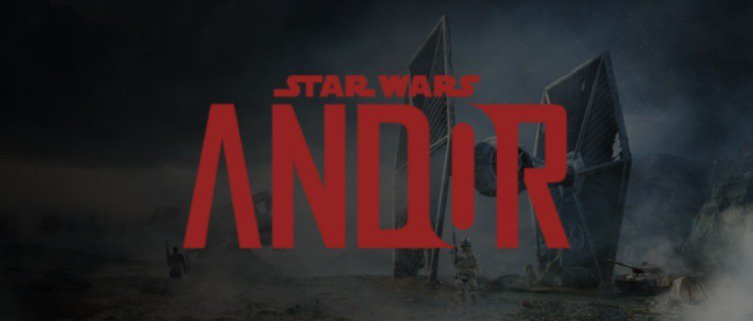 Star Wars in any form is always a popular hit, and the spin-off/prequel TV show Andor is no different. Set in the five years before Rogue One and the original Star Wars film, it follows thief-turned-rebel-spy Cassian Andor. The most popular episode is season one episode ten, which sees Cassian make a dramatic, if soggy, escape from prison. It scores a wonderful 9.5/10.
The lowest-rated episode is season one episode two, which still scores a respectable 7.3/10. Hopefully, this is a sign that the series will continue to do well after its first season.
House of the Dragon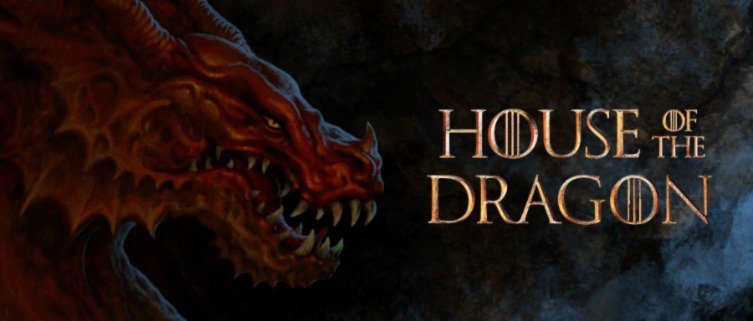 Given how wildly popular and successful Game of Thrones was, at least the first six seasons anyway, it makes sense that its prequel would be well received too. Set 200 years before the events of Game of Thrones, the series covers the events leading to the decline of the Targaryen dynasty. Its highest-rated episode is season one episode eight, scoring 9.4/10 "The Lord of the Tides", which focuses on the death of King Viserys and the family politics of succession.
The series lowest rated episode is season one episode six, "The Princess and the Queen", which scores a pretty respectable 8/10. It seems audiences weren't so keen on the idea of a dragon fire-blasting a woman in labour.
Ozark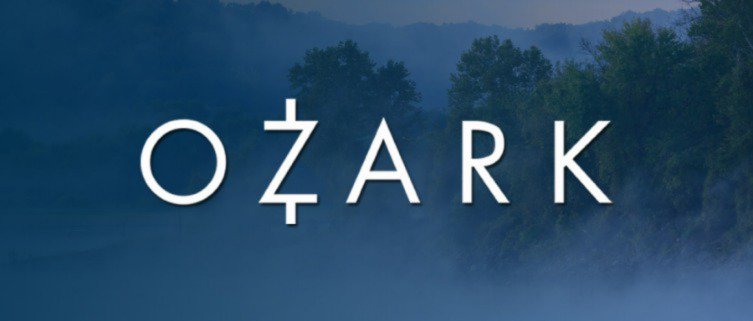 Ozark is a crime-drama series about a couple of criminals who set up a money laundering scheme in the middle of Missouri. It's won countless awards, and it is overall a much-loved piece of television. Its most popular episode rated 9.4/10 is at the end of season three which, in season finale tradition, is filled with chaos, arrests, and death.
Its least popular episode is season four episode four, which scores 7.2/10. Despite being action-packed, audiences didn't find it as attention-grabbing as the show is known to be.
Yellowstone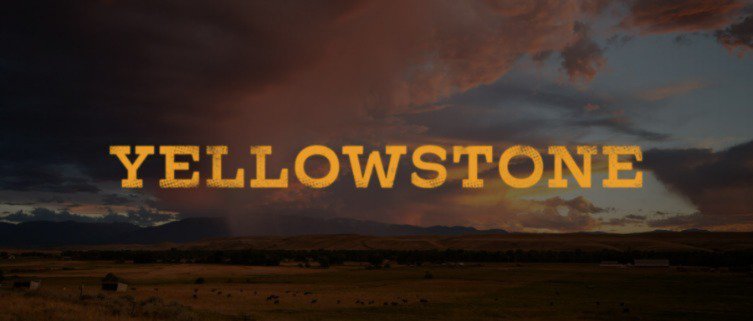 Yellowstone is a neo-western drama that covers the trials and tribulations of cattle ranch borders. Whether it is disputes with native land owners, land developers, or the cattle themselves, someone is always up to something.
The most popular episode is the first in season four, "Half the Money", rated 9.4/10. From barely surviving gunshots, to barely surviving bombs, it's got all the action. The lowest-rated episode is also in season four but is near the end at episode nine. Scoring just 7.7/10, it was a letdown after the bombastic earlier episodes.
The Crown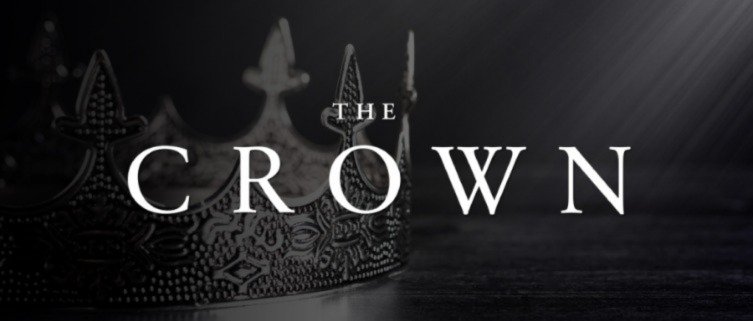 The Crown has a cult following, as it draws from the real lives of the British Royal family. The most highly rated episode is season three episode three, "Aberfan", which follows Elizabeth after the Aberfan disaster. The heart-wrenching episode scores 9.3/10.
The least liked episode comes a couple of seasons later, in season five episode ten. Scoring 7.4/10, "Decommissioned" focuses on the retiring of Britannia, the election of Tony Blair, and the handover of Hong Kong, lacking the sex and drama that makes other episodes more eye-catching.
Fleabag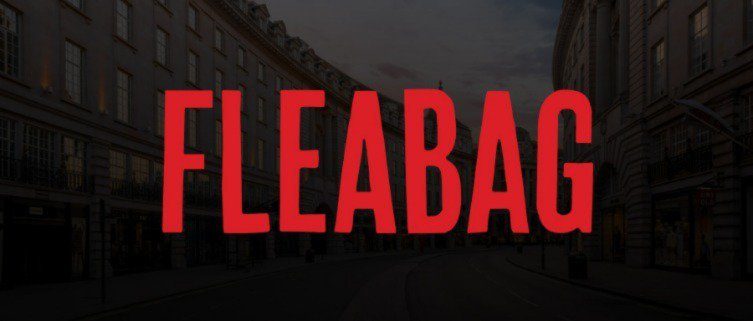 Following the adventures of Fleabag as a young woman about town, the comedy-drama has themes of love, loss, and sex. The most popular episode is season two episode six, the series finale rated at 9.3/10, which sees the titular Fleabag and her sexy Priest confessing their love for each other. The audience was left heartbroken when he chose his faith over her.
The least popular episode is season one episode three, which scores 7.6/10. Centred around Fleabag's sister's surprise birthday party, which Fleabag's sister is organising, audiences weren't keen on the family-focused drama or drunken attempted in-law smooching.
When are TV shows at their best?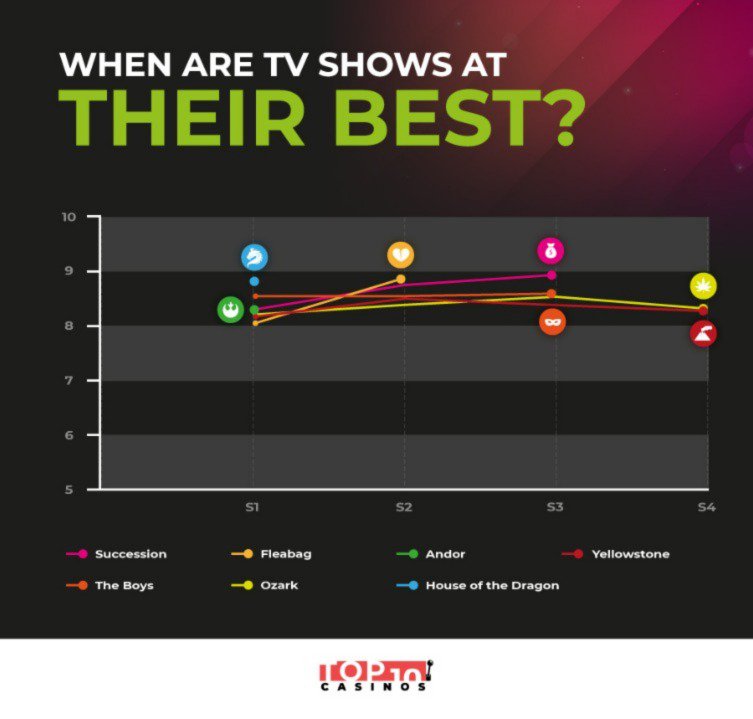 Top10Casinos also wanted to find out just when, on average, shows begin to experience a decline. Whether this is due to the writing standard slipping or trends moving away, every show must end at some point.
Of the 14 shows we measured in our seed list, only three of them actively got worse as time went on. Game of Thrones, Westworld, and The Crown have all seen significant drops in their rankings by the end of their run.
Notably, Game of Thrones had the largest fall from grace. At the end of its third season, its episode ranking was almost flawless at 9.9/10. Over the course of five seasons, it declined every more until its last episode which scored a tragic 4/10. The worst-rated season of Game of Thrones overall was series eight, which is further evidence of the clear decline.
It is joined by Westworld, The Crown, and Peaky Blinders in having the latest season being the worst-rated.
Most of the shows in our seed list experienced their worst season, with a lower average rating across episodes, in their first season. Whether still finding their feet, or not quite "understood" by audiences yet, two of these series have yet to progress past this season. Hopefully, ratings will improve across the board for them.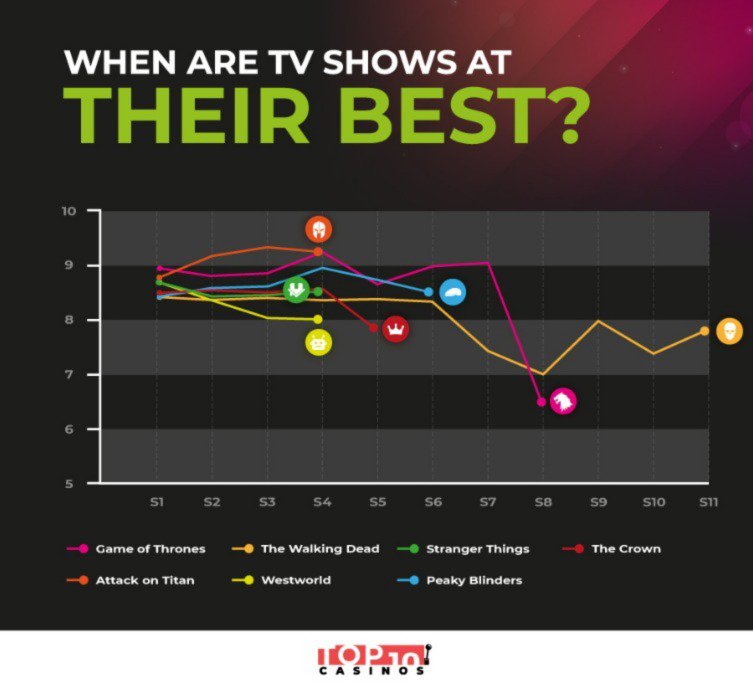 Just as it's interesting to see when shows start to fail, it's also fun to see when shows are at their absolute best. Game of Thrones fans can still debate, all these years later, whether the best run was in season four when the mountain killed the viper? Or perhaps the end of season six with the battle of the bastards, and the winds of winter?
We looked at trends in episode rankings, to see when shows improve, or at least which maintain their quality. Five of the shows in our seed list, Succession, The Boys, Fleabag, Andor, and House of the Dragon, all got better during their run. A further six shows in our list, Stranger Things, Ozark, Attack on Titan, The Walking Dead, Yellowstone, and Peaky Blinders, all maintained their quality throughout their tenure.
Notably in the TV show Fleabag, there was a distinct increase in ranking across its run. It began in the high 7s out of 10, but over the course of two seasons ended on the high of 9.3/10.
There's no telling what the future holds, and this is especially true in television. Some TV shows get a rocky start but come into themselves when the writers, directors, and actors find their stride. Other shows seem to be dominating the industry, but the cast and crew lose interest and quality slides.
We can only hope our favourite shows get to live up to their potential.
---
Methodology:
Top10Casinos.com sought to find out which TV series got better and which got worse with time.
A comprehensive seed list of 14 popular series from the past 5-10 years was compiled utilising IMDb and Reddit.
Following this, the scores for each episode were scraped from IMDb.
For each show, the 3-episode moving average was calculated as the average of the previous three episodes. This was used to determine where a show 'peaks' and where it 'falls'.
Additionally, the moving-average delta was calculated as the difference between each 3-episode moving average.
An average rating for each season was also calculated for all shows and a formula was used, where if the trend was > 0.01 the show got better over time, if it was < -0.01 it got worse, otherwise stayed the same.
All data was collected on 29 November 2022 and is subject to change.