The top 10 most attractive video game characters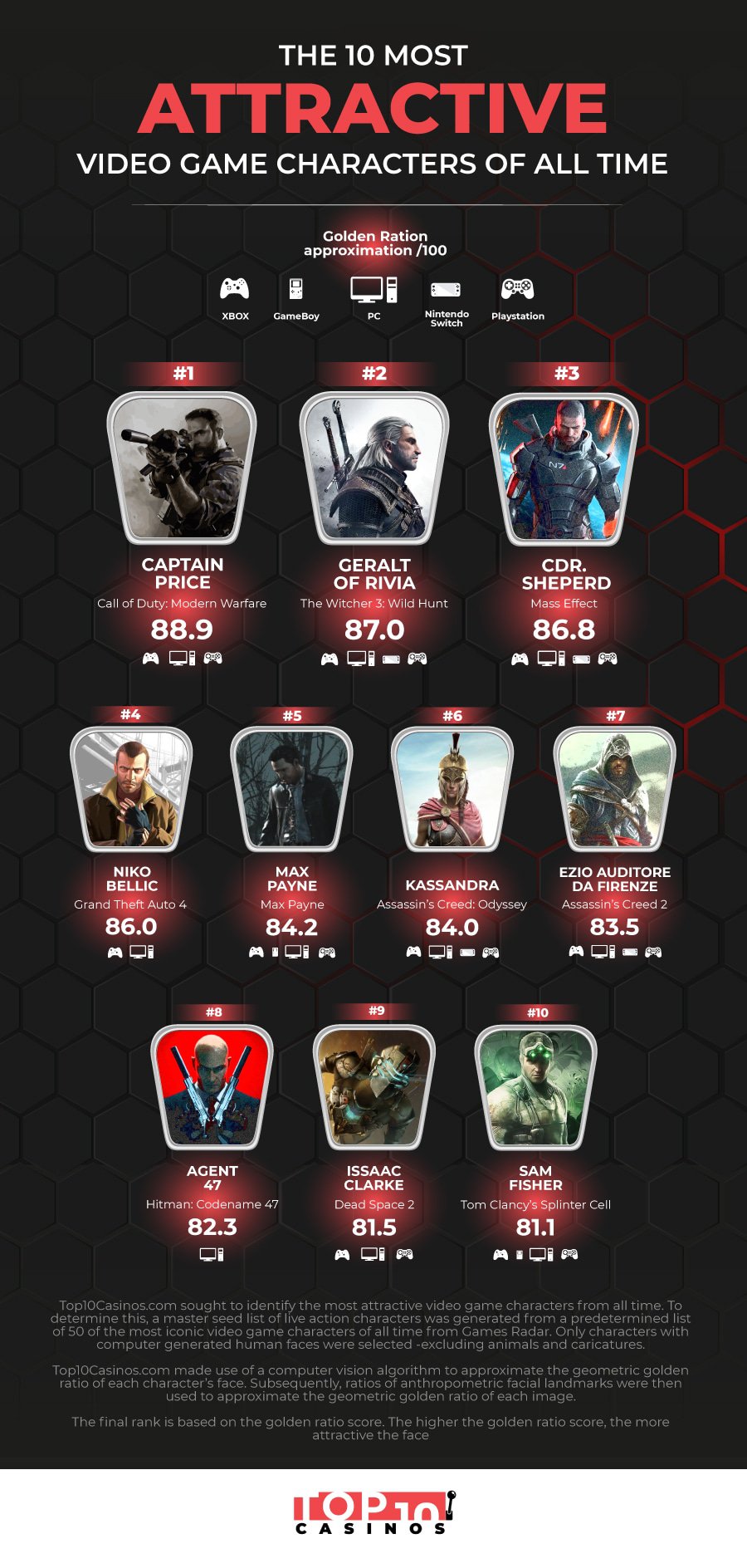 According to the golden ratio, you can't beat a man in uniform. Coming in at first place as the most attractive video game character overall, with a super-high score of 88.9, is Infinity Ward's formidable Captain John Price, in Call of Duty: Modern Warfare. Though this installation of the series was released in 2019, his infamous moustache has been gracing our screens on PC, PlayStation and Xbox since 2007.
In second place, we have another rugged, masculine character but this time with less facial hair! It's everyone's favourite Witcher, Geralt of Rivia, whose face was analysed using The Witcher 3: Wild Hunt game. With a score of 87, Geralt is scientifically proven to be one of the most aesthetically pleasing characters. This is no surprise to fans of the Netflix show, where Geralt of Rivia is played by none other than Henry Caville. What? He's not exactly known for being horrible to look at...
In third place, just a sliver behind Geralt with a score of 86.8, is the male version of Commander Shepard from the first edition of Bioware's Mass Effect series. Given that a 2007 release makes the game 15 years old, this goes to show that sleek graphics and hyperrealism aren't necessarily the key to creating a beautiful character.
Coming in at number four on our list, is yet another male. Surprisingly, two thirds of those on our list of most attractive characters are men, which has resulted in no women at all placing in the top five! With a very high score of 86, it's diamond in the rough and Yugoslavian native, Niko Bellic, from Grand Theft Auto 4. This game was released just after Mass Effect, in 2008.
Ranking within the top five by the skin of his teeth, is ex-NYC detective hellbent on revenge; the one and only, Max Payne. We analysed his facial features as shown in the first of the series, which was released in 2001. Though pixelated, this version of his character still showcases an angular jaw and symmetrical face, so it may come as no surprise that Payne is considered to be mathematically quite close to perfect, scoring 84.2.
Coming in at a very respectable number six, is Kassandra, the brunette beauty from Assassin's Creed: Odyssey. Just missing out on being part of the top five, the Spartan mercenary, Kassandra, is our first female character to make our list, scoring 84 out of 100. This means that she wins the title of 'most attractive woman in a video game', according to the golden ratio (and our deepest apologies go out to Tomb Raider stans).
We have another Assassin's Creed character ranking just behind Kassandra at number seven. This time, it's Renaissance man Ezio Auditore da Firenze. Though the upper part of his face is sometimes obscured by his hood, Ezio's scarred lip is one of the defining traits of his physical appearance. It's clearly a non-issue according to the golden ratio. however, which has assigned him a score of 83.5.
At number eight, with a score of 82.3, we have the stony-faced mercenary from the game Hitman: Codename 47. As the game's protagonist, Agent 47 is genetically engineered to carry out flawless assassinations, while looking handsome and staying smart in his token suit and red tie. Isaac Clarke from Dead Space 2 takes the number nine spot, with a score of 81.5, followed by Silver Fox, Sam Fisher from Tom Clancy's Splinter Cell, who scores 81.1.